Orphans & Vulnerable Children
Ethiopia has one of the highest orphan rates in the world. Tragically, one in eight Ethiopian children have lost one or both of their parents. Many children are faced with a life on the streets where hunger, disease and exploitation are daily realities.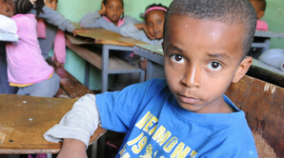 OUR AIM: To provide safe housing and opportunity for orphaned & vulnerable children
Our Solution
How you're helping protect orphans and vulnerable children on the streets of Ethiopia
More than a roof over their heads, your support helps give orphans all the basic necessities of life, plus the tools to learn, grow and eventually stand on their own two feet. This work is achieved through our two partners, the Jerusalem Children & Community Development Organisation (JeCCDO) and the beautifully named Yenege Tesfa which translates to 'Hope for Tomorrow'.
Essential Needs

Provide safe shelter along with food, water, clothing, shoes and medical care for children who would otherwise be living on the street
Yenege Tesfa operates children sanctuaries across the northern city of Gondar, while JeCCDO fosters children with caring guardians across the eastern Dire Dawa area
Provide counselling and follow up visits to protect children's health and wellbeing
For vulnerable children from struggling households or isolated areas with health conditions, provide medical coupons for free treatment at health clinics

Room to Grow

While only a small percentage of street children in Gondar attend school, children with Yenege Tesfa and JeCCDO attend school daily
Both Yenege Tesfa and JeCCDO also provide regular skills workshops and vocational training to help older youth find long-term work or achieve higher education
For students from struggling households who are already enrolled in schools, provide school uniforms, exercise books, pens and pencils to reduce their families' financial burden and help keep them in school

Community

Establish public programs which can fund themselves over the long term to run community programs like tutorials, orphan follow up visits and school support in different neighbourhoods
For foster guardians, provide basic business training and a small business starter loan so guardians can supplement their income and carefully support their families plus newest family member
Our Impact
How you've helped already: Tewabech Group Home
Happy and smiling faces are seen by the evaluators at Yenege Tesfa each time they visit the Tewabech Group Home in Gondar.
The 14 young residents of this children's sanctuary are beginning to thrive, thanks to you – our wonderful supporters.
Each young person has been provided with all their basic needs, and the staff at the sanctuary are pleased to report that none of the youth were found to suffer any serious health conditions following their medical check-up.
The young residents have already adjusted well to their new environment and are becoming more comfortable and confident at school. We look forward to seeing where their future takes them!

From the young residents and the sanctuary staff, a very big THANK YOU for your support!